In the dynamic world of kitchen appliances, finding the ideal slow cooker that meets your specific culinary needs can be a complex task. This article aims to simplify that choice by providing a thorough analysis of five distinct crockpots, each with its unique set of features and capabilities. From the straightforward and spacious Crock-Pot 7 Quart Oval Manual Slow Cooker, ideal for large family meals, to the multifunctional Ninja MC1001 Foodi PossibleCooker PRO, which combines slow cooking with searing and steaming, our review covers a wide spectrum of options. We also delve into models like the Hamilton Beach Set & Forget Digital Programmable Slow Cooker and the Elite Gourmet MST-900RXT, highlighting their programmable features and large capacities, suitable for various cooking demands.
Our approach in this review is to offer a balanced perspective, focusing not only on the advantages but also on the potential drawbacks of each model. This ensures that you, as a reader, gain a comprehensive understanding of what each slow cooker offers. Whether you're a novice in the kitchen or a seasoned cook, this guide is crafted to assist you in making an informed decision, helping you select a slow cooker that aligns with your lifestyle, cooking preferences, and the demands of your culinary adventures. Join us in this exploration to discover which of these crockpots could be the perfect addition to your kitchen arsenal.
As an Amazon Associate I earn from qualifying purchases.
Pros:
Simple, user-friendly knob control
Large capacity suitable for families
Reliable temperature control settings
Dishwasher-safe crock liner
Durable, long-lasting performance
Cons:
Exterior gets very hot
No digital features or timer
Some units arrive cracked
Chrome finish chips easily
Pot size may be misleading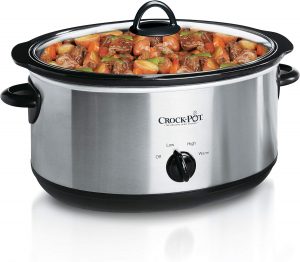 We recently explored the Crock-Pot 7 Quart Oval Manual Slow Cooker, a stainless steel appliance that has garnered attention for its simplicity and functionality. The cooker's user-friendly knob control is a standout feature, allowing for hassle-free operation without the complexity of digital settings. Its substantial size caters well to larger families, and the reliable temperature control ensures consistent cooking results, whether for slow-cooked roasts or hearty stews. Another significant advantage is the dishwasher-safe crock liner, promoting easy cleanup and maintenance. Our experience aligns with its reputation for durability and long-lasting performance, making it a practical choice for regular use.
However, our journey with this Crock-Pot wasn't without its drawbacks. The exterior's tendency to get very hot raises safety concerns, especially in households with children or pets. The absence of digital features, including a timer, might be a dealbreaker for those who prefer high-tech kitchen gadgets. We also observed that some units had issues with quality control, as they arrived with cracks or developed them over time. Additionally, the chrome finish, while aesthetically pleasing, is prone to chipping and scratching, which could detract from its overall appearance. Lastly, the actual pot size seemed somewhat misleading, which might be a consideration for those who need precise measurements for their culinary adventures. Despite these concerns, the Crock-Pot 7 Quart Slow Cooker stands as a reliable and efficient kitchen aid, particularly for those who value simplicity and classic slow-cooking methods.
Pros:
Tenderizes meat effectively
Easy-to-use programmable functions
Convenient locking lid for transport
Durable, long-lasting design
Versatile cooking options (e.g., stews, roasts)
Simple cleaning process
Energy-efficient cooking method
Reliable temperature control with probe
Cons:
Heavy, bulky design
Potential for glass lid breakage
Exterior gets hot during use
Inconsistent temperature regulation reported
Condensation affects sauce consistency
Control panel lettering wears off
Gasket retains odors, affects taste
Some models reported malfunctioning
Display lacks backlight, hard to read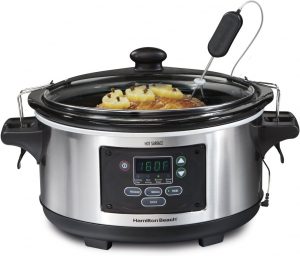 In our experience with the Hamilton Beach Portable 6 Quart Set & Forget Digital Programmable Slow Cooker, we've found it to be a culinary powerhouse, especially suited for those who appreciate the art of slow cooking. This device truly shines in its ability to transform tougher cuts of meat into tender, flavorful dishes, a testament to its effective temperature control and reliable cooking performance. Its user-friendly programmable functions are a standout feature, allowing for a set-and-forget cooking experience that fits seamlessly into busy lifestyles. The locking lid design is a thoughtful addition, providing peace of mind during transport to potlucks or family gatherings. Furthermore, the cooker's simple cleaning process, coupled with its energy-efficient nature, makes it a practical choice for everyday use.
However, our journey with this slow cooker hasn't been without its challenges. The appliance's hefty and bulky design might be a concern for those with limited kitchen space. We also observed that the exterior gets notably hot during operation, a common issue with many slow cookers but something to be mindful of in a household with small children. A few of us experienced inconsistencies in temperature regulation and noted that the condensation can alter the consistency of sauces, necessitating occasional lid removal to maintain the desired thickness. Additionally, the durability of the control panel lettering and the odor retention in the gasket are aspects that could benefit from improvement. Despite these drawbacks, the Hamilton Beach slow cooker stands as a valuable kitchen ally, especially for those who relish the convenience and flavor of slow-cooked meals.
Pros:
Multifunctional (slow cooker, sear, steam)
Easy to clean nonstick pot
Sleek, stylish appearance
Removable pot enhances convenience
Large 8.5-quart capacity
Cons:
Lid handle gets very hot
Pot not stove-top safe
Some design flaws (cleaning difficulty)
Lid issues (steam escape, trapped water)
Temperature control can be inconsistent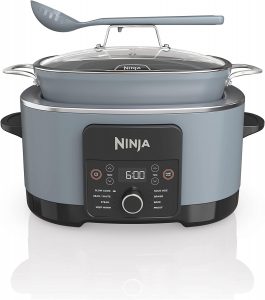 In our experience, the Ninja MC1001 Foodi PossibleCooker PRO stands out as a versatile and efficient kitchen appliance. Its multifunctionality is a key highlight, combining the capabilities of a slow cooker, sear, and steamer, all in one sleek and stylish unit. This makes it an ideal choice for those seeking to minimize kitchen clutter while maximizing culinary possibilities. The cooker's large 8.5-quart capacity caters to family-sized meals, and its removable nonstick pot not only simplifies the cooking process but also eases the often tedious task of cleaning. For users who prioritize convenience and aesthetic appeal in their kitchen gadgets, this Ninja model is an appealing option.
However, our review would be incomplete without addressing some notable drawbacks. The lid handle's tendency to get extremely hot poses a safety concern, necessitating caution and possibly extra kitchen tools like high-temperature mitts. Additionally, the fact that the pot is not safe for stove-top use limits its versatility, a point that may disappoint some users. We also encountered challenges with the lid design, specifically issues related to steam escape and water getting trapped, which can affect cooking efficiency and maintenance. Furthermore, inconsistencies in temperature control could lead to unpredictable cooking results, which might be frustrating for those who value precision in their culinary endeavors. Overall, while the Ninja MC1001 Foodi PossibleCooker PRO has several appealing features, potential buyers should weigh these against its limitations to determine if it aligns with their cooking needs and preferences.
Pros:
Locking lid for safety
Simple, user-friendly controls
Convenient automatic "Keep Warm" function
Large 7-quart capacity
Chalkboard surface adds fun
Cons:
Exterior gets hot during use
Some users report uneven cooking
Chalkboard feature deemed non-essential
Heavy and difficult to transport
Rubber lid seal retains odors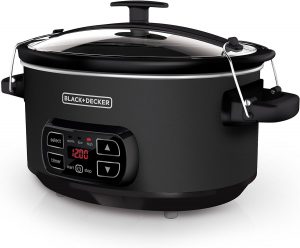 We at Expert Reviewer have taken a close look at the BLACK+DECKER 7-Quart Digital Slow Cooker, and we're impressed by its practical features designed for modern kitchens. The locking lid is a standout, providing safety and peace of mind, especially for homes with curious pets or when transporting the cooker. Its user-friendly controls simplify the cooking process, making it accessible to everyone, from novices to experienced cooks. The automatic "Keep Warm" function is a thoughtful addition, ensuring meals remain ready to serve, a boon for busy professionals. The cooker's generous 7-quart capacity makes it ideal for preparing large meals, from hearty stews to whole chickens, perfect for family gatherings or meal prepping for the week. Additionally, the unique chalkboard surface offers a touch of creativity, allowing users to jot down recipes or meal plans directly on the cooker.
However, our review also notes some areas for improvement. The cooker's exterior can become quite hot, which requires caution during handling, especially after long cooking durations. While the chalkboard feature is innovative, some users may find it superfluous to their cooking needs. The cooker's weight and size might pose challenges in terms of portability and storage, particularly when full. A few users have also reported issues with uneven cooking and difficulty in achieving the desired cooking temperatures. Lastly, the rubber seal around the lid, while effective in creating a tight seal, tends to retain odors, which could be a drawback for some users. Despite these concerns, the BLACK+DECKER Slow Cooker offers a good balance of functionality and convenience, making it a worthy consideration for those looking to enhance their culinary experience.
Pros:
Perfect for large meals
Consistent heating and cooking
Easy to use and clean
Automatically switches to warm setting
Durable, long-lasting performance
Cons:
Heavier ceramic pot
Settings run hotter than older models
Some issues with lid quality
Temperature control knob visibility issue
Inconsistent cooking experiences for some users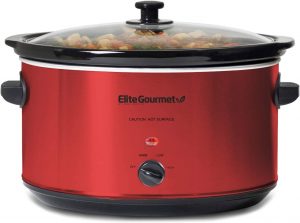 After thorough usage and analysis, we've found the Elite Gourmet MST-900RXT Electric Ceramic XL Jumbo Slow Cooker to be a commendable kitchen appliance, particularly for those who often prepare large meals. Its 8.5-quart capacity is ideal for cooking substantial quantities, making it perfect for families or gatherings. The cooker's ability to maintain consistent heat ensures that meals are cooked evenly, a feature that's especially valuable when dealing with larger cuts of meat or batches of stew. Additionally, the convenience of its easy-to-use interface and the automatic switch to a warm setting post-cooking adds to its appeal. Its durability and ease of cleaning further enhance its value as a long-term investment for any kitchen.
However, it's important to note some drawbacks. The ceramic pot, while sturdy, is notably heavy, which could be a challenge for some users. Moreover, we've observed that the temperature settings tend to run hotter compared to older slow cooker models, necessitating adjustments in cooking times to avoid overcooked meals. There have been some concerns about the lid's quality and the visibility of the temperature control knob, which could affect user experience. Lastly, a few users have reported inconsistent cooking results, which might indicate a variability in performance. While these cons are noteworthy, they don't overshadow the overall functionality and benefits this slow cooker offers, especially for those in need of preparing large, hearty meals with ease.