In the quest for the perfect outdoor experience, a smokeless fire pit stands as a quintessential element, blending the allure of a traditional campfire with modern technology to minimize smoke and maximize enjoyment. As the outdoor season beckons, the search for the best smokeless fire pit becomes paramount for enthusiasts seeking to elevate their backyard, patio, or camping experiences. This comprehensive review delves into five top-tier smokeless fire pits: SURESTOVE, TIKI Brand, Solo Stove Ranger 2.0, EAST OAK, and TURBRO Fireside. Each product is meticulously evaluated, considering factors like design, efficiency, portability, and overall performance, to guide you in making an informed decision tailored to your outdoor needs.
Our detailed analysis not only highlights the unique pros and cons of each model but also provides real-world insights into their practicality and performance. From the robust and versatile SURESTOVE, ideal for larger gatherings, to the sleek and modern TIKI Brand, each fire pit is scrutinized to reveal its true potential in enhancing your outdoor ambiance. Whether you're a camping aficionado, a backyard entertainer, or simply someone who cherishes the warmth and charm of a fire pit, this article promises to navigate you through the nuances of each model. Stay with us as we explore these smokeless fire pits, helping you discover the perfect blend of functionality, style, and smoke-free enjoyment for your outdoor adventures.
As an Amazon Associate I earn from qualifying purchases.
Pros:
High-quality stainless steel construction
Smokeless design for comfortable use
Includes stand and protective cover
Portable and convenient for travel
Larger size suitable for gatherings
Cons:
Can smoke if used incorrectly
Top ring design not practical
Not completely smokeless with wet wood
Shelves are weak and unnecessary
Some users prefer higher-end alternatives
Risk of bronzing and rusting
Potential safety hazard on decks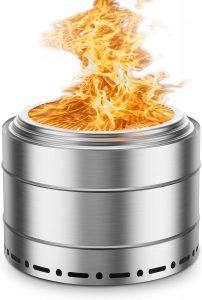 We recently had the opportunity to evaluate the SURESTOVE Smokeless Fire Pit, a product that stands out for its robust stainless steel construction, offering durability and resistance against corrosion. It's a versatile choice for backyards, patios, gardens, and even picnics, given its portability. The smokeless design is a significant advantage, ensuring that gatherings are comfortable and free from the irritation of smoke, although it's important to note that proper use is key to maintaining this smokeless quality. We appreciated the included stand and cover, enhancing the product's stability and protection against the elements, making it a reliable companion for outdoor activities.
However, it's not without its drawbacks. The top ring design, intended for grilling, seems impractical and not suitable for heavier cooking tasks. Users should be aware that the pit is not entirely smokeless, especially when using wet wood or as the fire dies down. We also found the outer shelves to be somewhat weak and redundant. While the SURESTOVE offers a cost-effective alternative to higher-end models like the SoloStove, some of us felt that investing a bit more could provide a better overall experience. Despite these points, the SURESTOVE Smokeless Fire Pit still stands as a solid choice for those seeking a functional, affordable outdoor fire pit.
Pros:
Aesthetically pleasing, modern design
Efficient, low-smoke performance
Includes weather-resistant cover
Easy to clean and maintain
Sturdy, high-quality construction
Cons:
Smaller opening limits wood size
Limited heat distribution
Higher price point compared to others
Some users report rust issues
Inconsistent quality control, alignment issues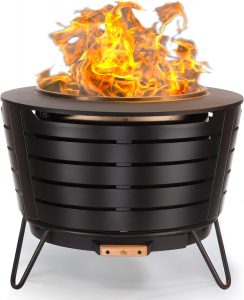 We recently explored the TIKI Brand Smokeless Patio Fire Pit, attracted by its modern design and promise of a smoke-free experience. Our initial impressions were positive; the fire pit's sleek black finish adds a touch of elegance to any outdoor setting, and its sturdy build suggests long-lasting quality. The inclusion of a weather-resistant cover and a removable ash pan not only enhances convenience but also simplifies maintenance, a boon for regular users. We were particularly impressed with its efficient, low-smoke performance, which lived up to the expectations set by the product description.
However, during our usage, we encountered a few drawbacks. The fire pit's smaller opening presented a challenge, limiting the size of wood that could be used and somewhat restricting the traditional fire-building experience. Additionally, we noticed that the heat distribution was less than ideal, particularly in cooler temperatures where warmth is most needed. Despite the high-quality build, there were instances of rust over time, and some users reported alignment issues, pointing to inconsistencies in quality control. While the price point is higher than some competitors, the TIKI Brand Smokeless Patio Fire Pit offers a balance of style and functionality, making it a noteworthy option for those prioritizing aesthetics and smoke reduction in their outdoor spaces.
Pros:
Compact and easily portable
Efficient, clean, and hot burning
Minimal ash production
Safe with non-heating base
Quick ignition with minimal kindling
Cons:
High cost, potentially overpriced
Requires smaller wood pieces
Limited heat radiation around
Exterior discoloration with use
Significant smoke during initial burn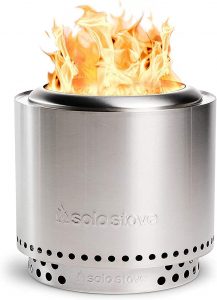 As avid campers and outdoor enthusiasts, we recently had the opportunity to experience the Solo Stove Ranger 2.0 with Stand, a smokeless fire pit designed for portability and efficiency. Our initial impression was its remarkable compactness, making it an excellent choice for those with limited storage space. The Ranger's design facilitates a clean and hot burn, impressively minimizing ash production. This feature, coupled with the fire pit's safe design that keeps the base cool, greatly enhances its usability in various outdoor settings.
However, our experience also highlighted some limitations. The Ranger's high price point may deter some, especially considering its requirement for smaller wood pieces, which can be a bit inconvenient during preparation. While it excels in creating a warm ambiance, we noticed the heat radiation was somewhat restricted, primarily upwards rather than outwards. Additionally, we observed some exterior discoloration after use and encountered significant smoke during the initial burn, though it diminished once fully ignited. Despite these drawbacks, the Solo Stove Ranger 2.0 stands out for its portability, efficiency, and clean burn, making it a worthwhile investment for camping enthusiasts seeking a reliable and environmentally friendly fire pit solution.
Pros:
Compact and easily portable
Minimal assembly required
Efficient smokeless design
Strong heat output
Durable stainless steel construction
Easy to clean with removable ash pan
Excellent customer service support
Cons:
Heat primarily directed upwards
Some users report peeling paint
Sharp edges, potential safety hazard
Requires frequent cleaning for optimal performance
Limited heat distribution to surrounding area
Consumes a lot of wood
No accessories for ember control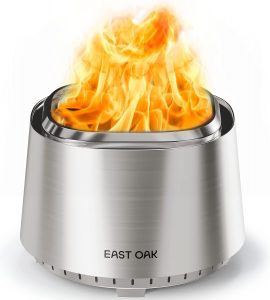 We recently explored the EAST OAK 21" Smokeless Fire Pit and were impressed with its portability and ease of assembly. This fire pit, crafted from durable 304 stainless steel, stands out for its efficient, smokeless design, making it a great addition to any outdoor gathering. Lighting a fire is remarkably easy, and the removable ash pan simplifies cleaning. The compact size is perfect for small group gatherings and doesn't become a permanent fixture in your yard, offering flexibility in storage and placement.
However, our experience also highlighted some drawbacks. The heat distribution is primarily vertical, offering less warmth to those seated around it, particularly noticeable on windy days or in colder environments. While the pit's design is robust, the paint's durability was questioned, with instances of peeling reported. Safety is a concern too, as the edges can be quite sharp. Despite these issues, EAST OAK's customer service has shown commendable responsiveness, addressing concerns and ensuring customer satisfaction. The fire pit consumes wood at a fast pace, which could be a consideration for frequent users. Overall, the EAST OAK Fire Pit is a solid choice for those seeking a smokeless, portable fire pit with a strong heat output, albeit with a few design considerations to keep in mind.
Pros:
Virtually smokeless burning experience
Easy to start and use
Compact, nested design for storage
Includes durable, waterproof storage bag
Suitable for camping and home use
Efficient air flow for fire
Detachable, high legs prevent ground heat
Accommodates standard size firewood
Cons:
Limited heat distribution to sides
Requires considerable wood for fire
Minimal visual fire enjoyment
No accessories available for purchase
Some users report non-smokeless experience
Might be less effective in cold
Quick wood burning, increased consumption
Not ideal for cooking purposes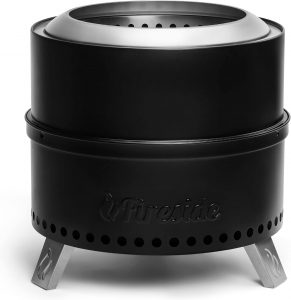 We recently explored the TURBRO Fireside 19 Inch Smokeless Fire Pit and found it to be an excellent choice for both camping enthusiasts and those seeking a cozy backyard fire experience. A standout feature is its near-smokeless burning capability, which eliminates the common nuisance of shifting seats to avoid smoke, a significant plus for us. Its ease of use is commendable, with a simple setup that doesn't require tools, and the fire ignites swiftly thanks to the efficient airflow design. The compact, nested structure is a space-saver, and the inclusion of a sturdy, waterproof bag enhances its portability, making it a top pick for our outdoor adventures. The fire pit's ability to accommodate standard-sized firewood adds to its practicality, simplifying the wood-gathering process.
However, we did notice some limitations. The heat distribution is mainly vertical, so while the fire blazes hot above, it doesn't radiate much warmth to the sides. This aspect might be a drawback in colder conditions, as it leads to uneven heating of the body. Visual enjoyment of the fire is somewhat reduced due to the pit's design, which might detract from the traditional fire-gazing experience. We also observed a quicker consumption of wood, likely due to the design promoting a more intense burn. The lack of additional accessories, like cooking grills or heat deflectors, was felt, limiting its versatility. Overall, the TURBRO Fireside Fire Pit shines in its smokeless performance and ease of use, but those seeking a more traditional, heat-efficient fire pit experience might find it lacking in certain aspects.