In the quest for the perfect immersion blender, a kitchen essential that combines convenience with culinary prowess, we delve into the intricate world of five standout models. Each blender, unique in its capabilities and design, promises to transform your kitchen experience, whether you're an aspiring chef or a seasoned home cook. Our comprehensive review navigates through the pros and cons of these models, offering insights that cater to a diverse range of needs and preferences.
From the versatile Mueller Austria Ultra-Stick to the robust GE Immersion Blender, our analysis is tailored to guide you through the nuances of each product. We understand that the ideal immersion blender is not just about blending efficiency; it's about how it complements your lifestyle, culinary aspirations, and kitchen dynamics. As we explore these models, we invite you to join us in uncovering the blender that not only meets your expectations but elevates your cooking journey to new heights. Stay tuned as we dive into the details, ensuring you make an informed decision in your pursuit of the ultimate kitchen companion.
As an Amazon Associate I earn from qualifying purchases.
Pros:
Versatile with multiple attachments
Powerful motor, efficient blending
Easy to clean, dishwasher-safe
Effective for various foods
Good customer service response
Cons:
Short continuous usage time
Durability issues with attachments
Inconsistent blending performance
Non-serviceable, not repair-friendly
Some reported safety concerns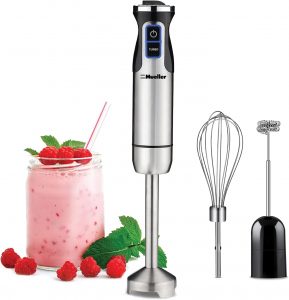 The Mueller Austria Ultra-Stick Immersion Blender stands out as a versatile kitchen tool, suitable for a wide range of culinary tasks. Its multiple attachments, including a whisk and milk frother, provide a convenient solution for creamy butternut squash dishes, frothy coffee, whipped cream, and even pesto. The blender's powerful motor efficiently handles various foods, from blending soups to chopping ice, showcasing its adaptability in the kitchen. Its ease of cleaning, with dishwasher-safe components, adds to the practicality for everyday use. Customer service also deserves praise, as they promptly respond to issues and offer replacements under warranty, demonstrating a commitment to customer satisfaction.
However, this product has its drawbacks. A significant limitation is its short continuous usage time, requiring breaks especially when blending thick mixtures like mashed potatoes. Durability concerns arise with attachment longevity, as users have reported issues with the whisk breaking and plastic parts wearing out. The blending performance can be inconsistent, with some users experiencing chunky results in foods like salsa and smoothies. The non-serviceable design is another drawback, making repairs difficult and adding to electronic waste concerns. Additionally, safety issues such as the attachment coming loose during operation have been reported, which could be a concern for some users. Despite these shortcomings, the Mueller Austria Ultra-Stick offers compelling features for its price range, making it a viable option for those seeking a multi-purpose hand blender.
Pros:
Compact and space-efficient design.
Versatile with variable speed control.
Easy to clean attachments.
Compatible with multiple attachments.
Durable with long lifespan.
Cons:
Requires two-handed operation.
Not dishwasher-friendly for some parts.
Safety lock can be inconvenient.
Limited cord length restricts movement.
Blade design can scratch surfaces.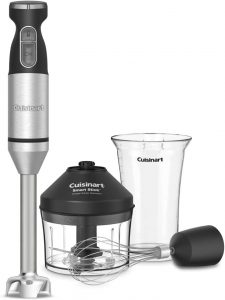 We at Expert Reviewer have thoroughly analyzed the Cuisinart CSB-179 Smart Stick Variable Speed Hand Blender and have found it to be a significant addition to any kitchen. Its compact design is a big win for those with limited storage space, and the variable speed control offers unmatched versatility for a range of culinary tasks. We appreciate the easy-to-clean nature of its attachments, enhancing the user experience. Moreover, its compatibility with a variety of attachments and proven durability, as evidenced by users' experiences, make it a reliable choice for frequent use.
However, there are a few areas where the Cuisinart CSB-179 falls short. The requirement for two-handed operation can be a bit cumbersome, especially when multitasking in the kitchen. Additionally, not all parts are dishwasher safe, which might be a setback for some users. The safety lock, while an essential feature, has been found to be somewhat inconvenient during use. The limited cord length could restrict movement around the kitchen, and the design of the blade raises concerns about potential scratches on certain surfaces. Despite these drawbacks, the Cuisinart CSB-179 stands out for its overall efficiency and quality, making it a worthy consideration for those seeking a robust hand blender.
Pros:
Powerful and efficient performance
Easy to clean design
Attractive appearance and color options
Variable speed functionality
Useful for various kitchen tasks
Cons:
Not dishwasher safe
Pan guard poorly designed
Shorter lifespan than expected
Issues with plastic guard breaking
Overheating motor in some cases

We found the KitchenAid Variable Speed Corded Hand Blender KHBV53 to be a reliable and efficient kitchen tool, offering a balance of power and convenience. Its variable speed functionality and efficient performance make it suitable for a variety of kitchen tasks, from pureeing tomatoes for sauces to blending ingredients for smoothies. The blender's attractive appearance and color options add a touch of style to any kitchen, and its design is generally easy to clean.
However, we observed several drawbacks. The blender is not dishwasher safe, which can be inconvenient for some users, and the pan guard has been noted to be poorly designed and may not fit securely. Furthermore, the longevity of the blender is a concern, with several users reporting a shorter lifespan than expected. There have also been instances of the plastic guard breaking, and some users have experienced overheating of the motor during use. These issues, while not universal, are significant considerations for potential buyers. Overall, while the KitchenAid Hand Blender excels in functionality and aesthetics, these drawbacks should be weighed carefully against its benefits.
Pros:
Powerful and efficient blending
Easy to clean and maintain
Durable construction, long-lasting use
Versatile for various recipes
High-quality Vitamix brand reputation
Cons:
Whisk attachment feels cheap
Can be heavy and unwieldy
Blades prone to dulling
High price point for value
Inconvenient long cord design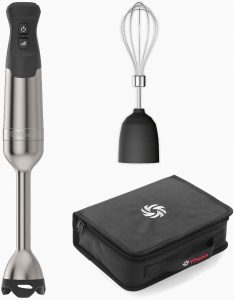 In our experience, the Vitamix Immersion Blender 3 Piece Set stands as a testament to the brand's commitment to quality and efficiency. Its powerful blending capabilities are a highlight, effortlessly handling a variety of tasks from smoothie making to soup blending. The ease of cleaning and maintenance is a boon for both home cooks and professionals, ensuring its longevity in any kitchen. This versatility, coupled with the renowned durability of Vitamix products, makes it a valuable addition to any culinary repertoire.
However, the set is not without its drawbacks. The whisk attachment, an essential component of the set, unfortunately falls short in terms of build quality, feeling somewhat cheap compared to the robustness of the main blender. Users with smaller frames or those with hand mobility issues may find the blender's weight and size cumbersome, detracting from the overall user experience. Additionally, the premium price tag of this Vitamix product may not align with the perceived value, especially when considering the longevity of the blades and the inconvenience posed by the non-detachable, long cord. While it excels in performance, these factors are worth considering for potential buyers weighing their options in a competitive market.
Pros:
Sturdy with comfortable grip
High horsepower, sharp blades
Long cord length
Versatile for various foods
Easy to clean
Cons:
May overheat during use
Attachment connection sometimes loose
Short lifespan for some users
Size too large for jars
Missing or defective parts reported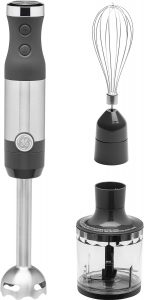 After extensive use and evaluation of the GE Immersion Blender, we've found it to be a robust and versatile kitchen tool. Its sturdy construction and comfortable grip make it a pleasure to use for a variety of tasks, from blending smoothies to pureeing soups. The blender stands out with its high horsepower and exceptionally sharp blades, easily tackling tougher blending jobs. Its long cord offers added convenience, and the ease of cleaning is a significant advantage. The blender's versatility extends to making frothy coffee and whisking eggs, demonstrating its ability to handle diverse culinary tasks efficiently.
However, there are some concerns. The blender has a tendency to overheat, especially when used for prolonged periods, which can be a drawback for more intensive blending tasks. We also noticed that the attachment connections can be somewhat loose, impacting the overall feeling of durability and reliability. Some users have reported a shorter lifespan and issues with parts either missing or becoming defective after limited use. Additionally, the size of the blender can be cumbersome, particularly when working with smaller containers like Mason jars. Despite these drawbacks, the GE Immersion Blender offers impressive performance for its price, making it a valuable addition to any kitchen, albeit with a few caveats.