Features
Iupilon's plastic chopping board has the following features:
Thick Chopping Board – Focusing on durability and dependability, our plastic chopping board is 0.59 inches thick to give the optimum cutting surface.
Perfect size for Table Tops and Counter Tops – Compact and made to accommodate different kitchen counters, Iupilon's cutting board comes in a universally compatible size of 7.87 x 11.81″.
Antibacterial Chopping Board – Our chopping board stands out because it is crafted from anti-bacterial materials. In comparison, wooden chopping boards are not safe from food contamination with bacteria. Iupilon's cutting board is crafted from polyethylene plastic, which is naturally antimicrobial.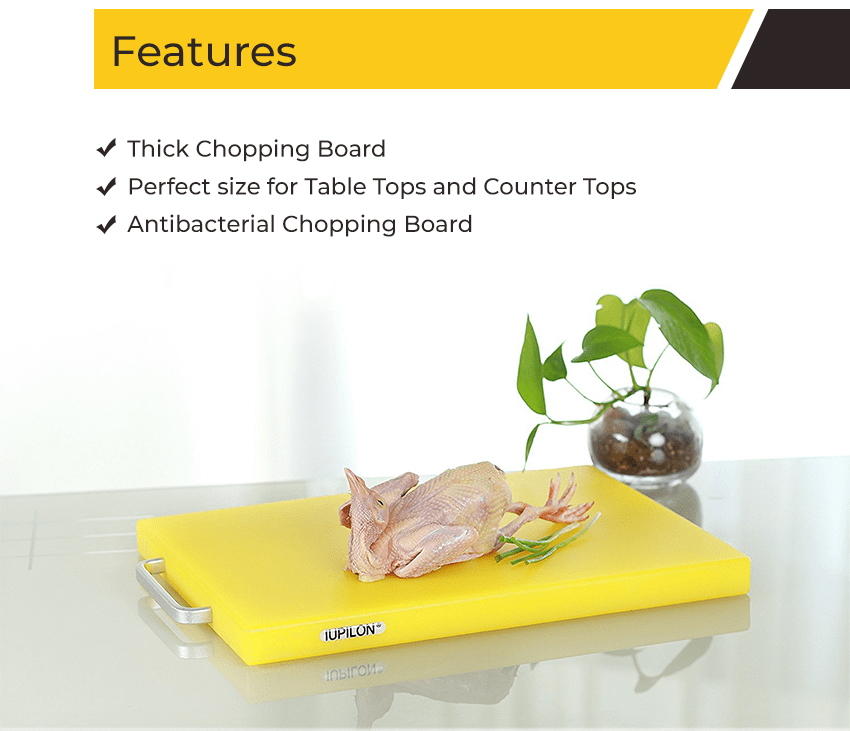 Additional Information
Whether you need a board for yourself or are thinking of giving a cooking gift to others, Iupilon's plastic cutting board is the best option for you.
Anti Slip and Great Grip – The anti-slip bottom of the cutting board ensures that it doesn't slip or slide, increasing the chances of suffering some kind of accident in the kitchen. The anti-slip bottom adheres securely to most surface areas. Please wipe down the counter to remove water and other substances that can increase the chances of slippage.
Metal Handle – The board also has a stainless steel metal handle that you can use when you're holding it or even make use of for proper storage of the cutting board.
Safe and Easy to Clean – The smooth surface of the chopping board makes it extremely safe for use and ensures that you can use it to cut vegetables and poultry with ease. The surface area of the board is also easy to clean and you don't have to worry about bacteria at all.
FAQ
c

Expand All
C

Collapse All
The Iupilon plastic chopping board can be easily stored anywhere. The metal handle on the chopping board means that you can also store the handle on a hook. The short body of the chopping board ensures that you can also store it in any area you like.
The Iupilon plastic chopping board is safe to use with any food items. Crafted from materials that are naturally antibacterial in nature, there is no chance of contamination of food when you are using Iupilon's plastic chopping boards.
The Iupilon plastic chopping board is crafted from extremely durable plastic. The thickness of the plastic board also ensures that you won't have to look for a replacement for the chopping board anytime soon.